Electrum Server
We are running an open-source and free Electrum server
You can use the popular Electrum Bitcoin client with our Bitcoin node, using our ElectrumX server instance.
Electrum Server : blkhub.net [encrypted port : 50002]
How to connect to our server.
In Electrum, click on the orb disc icon in the bottom right of the window, or choose in the window menu Tools > Network. Then fill in the options as in the image below.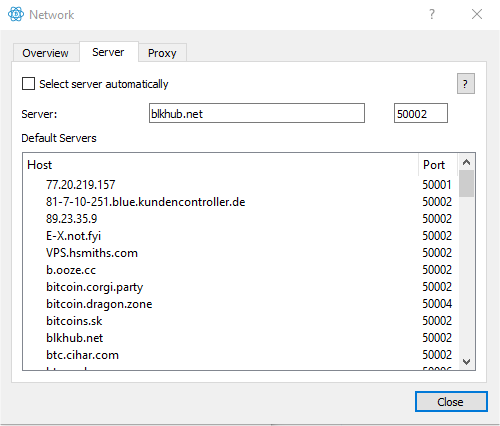 The Electrum client randomly connects to a server backend to retrieve your info from the Bitcoin blockchain. So you don't know which server you can trust about your privacy or your security. Connecting your Electrum wallet directly to our Electrum server, you connect to a trusted system you know better about. The Electrum Bitcoin client is one of the easiest way to use your hardware wallet securely or advanced capabilities such as SegWit, with a trusted backend service.
Soon available through the Tor network.
Key Benefits
Free

Non profit driven
Ran by a passionate team

We respect your privacy

No Ad
No tracker
Limited logs, only for server health

open-source server
Fully processed and stored in France
The source of our running server is available here.